SteelSeries Siberia Gaming Headset Review
by Henry Butt
SteelSeries is a Danish company founded in 2001 with the aim of developing products oriented around professional gaming across the globe. It is now a leading manufacturer of gaming peripherals and accessories including headsets, keyboards, mice, mouse mats and software. Today we are looking at their Siberia Gaming headset, designed to be used with a PC over a prolonged period of time.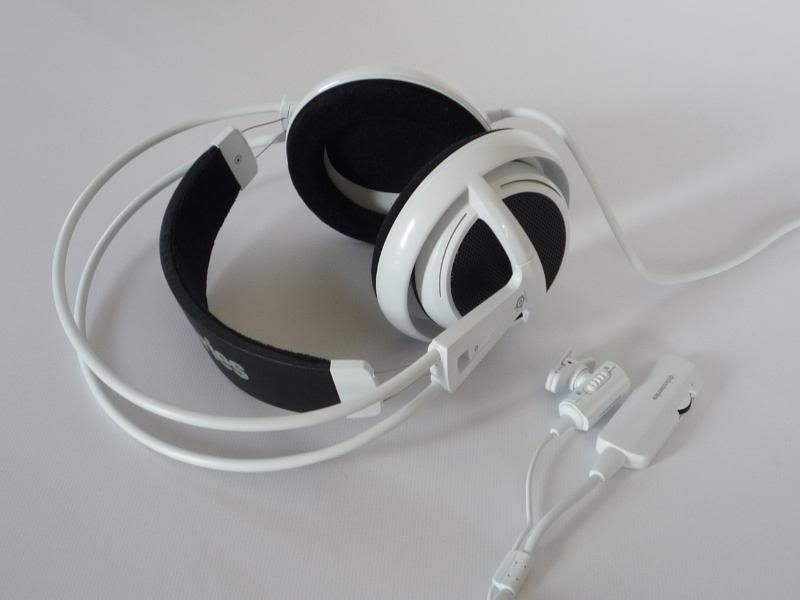 Specification
Headphones:
- Frequency: 18 – 28 000 Hz
- Impedance: 40 Ohm
- SPL@1kHz, 1V rms: 104 db
- Cable Length: 1m + 1.8m = 2.8m
- Interface: 3.5mm and 6.3mm jack
Microphone:
- Frequency: 80 – 15 000 Hz
- Pick-up Pattern: Uni-directional
- Sensitivity: -38dB
The packaging is generally well designed and is of a quality that one would expect after spending in excess of £50 on a pair of headphones. It also has a large plastic window which adds to the aesthetic appeal as it gives you a glimpse of the sleek glossy product inside. On a more utilitarian note, it also clearly lists the specification and general information on the rear side of the box, including a diagram of where to plug in all the cables.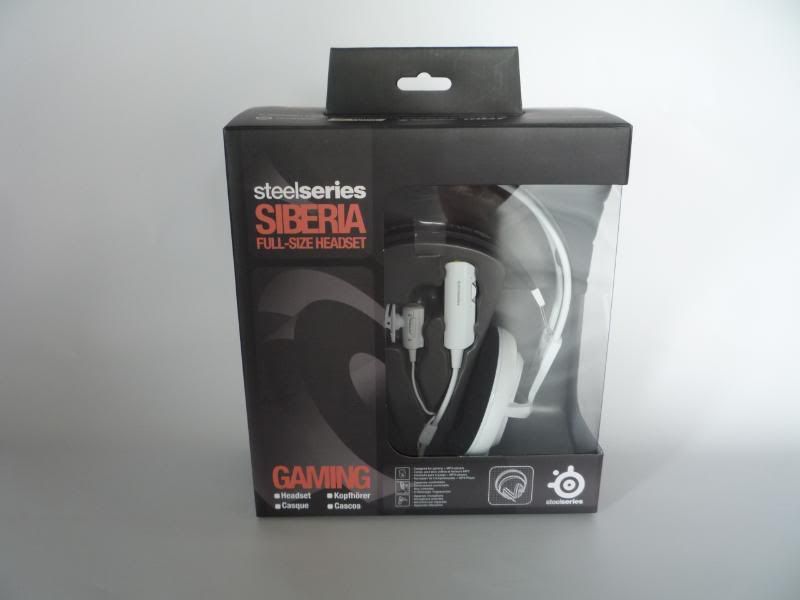 The Siberia headset is at the top of SteelSeries' headset range, although is also available with a USB interface for slightly more money. This version uses the traditional 3.5mm jack connector, although it comes with a push on connector which converts it to 6.3mm.
Initially it seemed as if the audio cable was rather short although under further inspection, they have included a volume regulator which more than doubles the length of this cable, and is also attached to the detachable microphone. It would seem that this has been designed so that you can plug the volume regulator into the rear of your PC while allowing you to easily remove and plug in the headphones without having to remove them from the back each time. It is also notable that the cables seem to be durable and of good quality, even though they don't possess the woven cable shielding like their mice.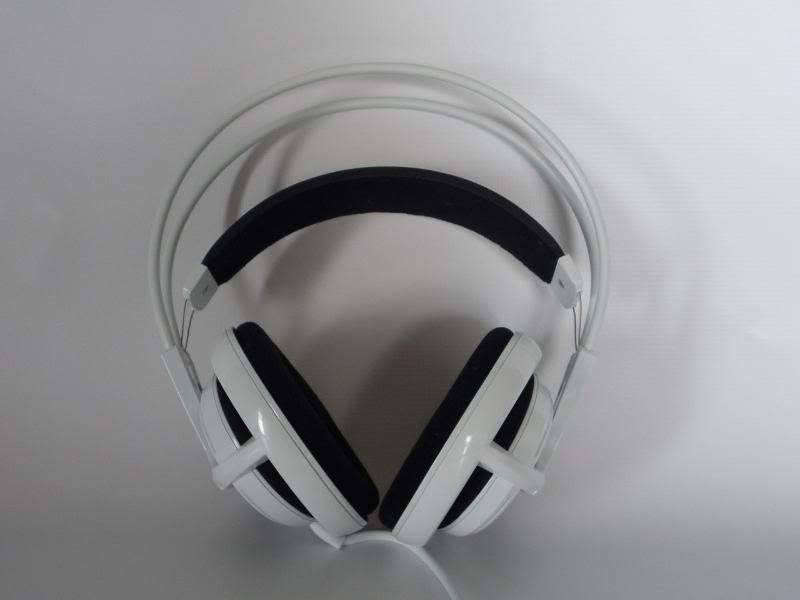 The high quality of the cables is also reflected in the rest of the headphones – all the plastics are of the highest quality and don't seem to pick up dust and scratches like many similar gloss finish products. Also, if you are not keen on the white gloss finish, they are also available for the same price in both gloss red and gloss black. I personally prefer this headset in white, however there is no denying that they look fantastic in all of the available colours.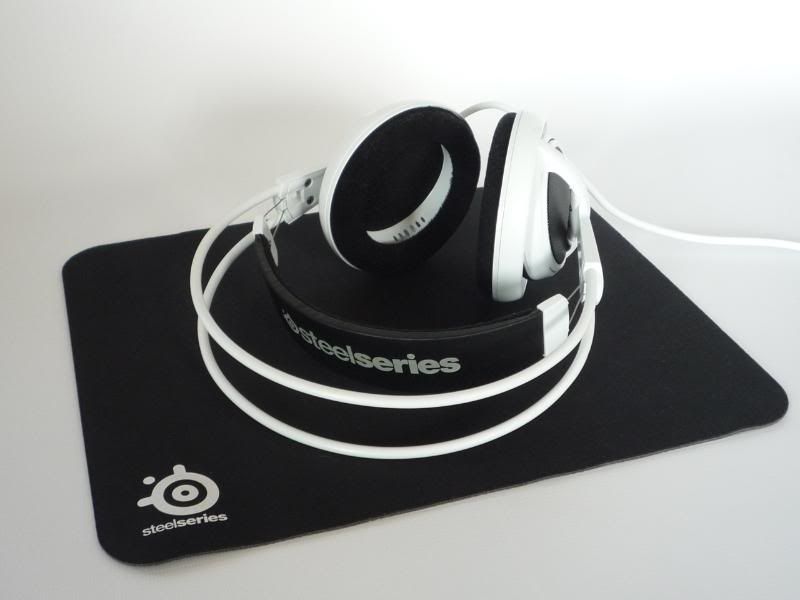 As with other similar headsets, aesthetic appeal is not the only area in which the Siberia excels. It is obvious that this headset has been designed with comfort in mind and is without doubt the most comfortable headset I have ever used, and unlike others, doesn't become uncomfortable after a few hours. There is also an elasticated fabric strip decorated in a large SteelSeries logo which keeps the headset firmly in place on your head, although not uncomfortably. The use of high quality foam around the speakers themselves rather than padded leather is also a welcomed feature as they deform more to the shape of your ears.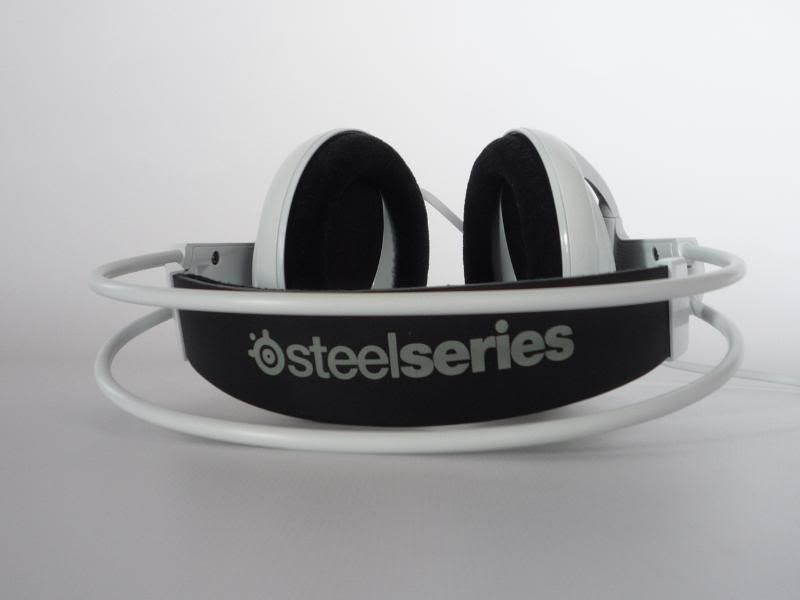 Aside from the all round excellent quality and attractive aesthetics, sound quality is also an area in which SteelSeries have obviously concentrated their efforts. I have used the Siberia both with my PC and MP3 Player and I have to say, the sound quality is breathtaking. The quality and fullness of the sound is by far superior to the 5.1 surround sound setup I have at home so I would recommend using it as an all round pair of headphones, not just as a gaming headset. Thanks to the detachable microphone, this is easy as when using for gaming, you can plug it into the volume regulator and use the microphone, and when using with an MP3 player or for a movie, you can easily plug it into the device of your choice, without having to worry about the microphone getting in the way.
The microphone itself is notably better than that of many other headsets I have used in the past. It provides a clear sound thanks to the noise cancelling technology and is uni-directional so is less likely to pick up background noise. The microphone itself can be clipped the headphone cable or even to your collar depending on your own preference.
In conclusion, if you are in the market for a gaming headset or even a pair of good all around headphones, I would recommend the SteelSeries Siberia Headset one hundred percent as I have not found one thing that didn't impress me about it. Although the RRP is £59.99, it can be purchased for the very reasonable price of £52.99 from play.com which is great value for money.