Novatech X70 GTX Pro Review
The X70 GTX is essentially a refresh of the recently reviewed X70 MV. This update is mainly noticed with the GPU with the upgrade from the nVidia 9800M GTS 512mb to the nVidia 260M GTX 1GB. There is no doubt though that this is still the most powerful 15.4" gaming notebook money can buy which fits in just below the X80 GTX and above the X55 MV.
Specifications:
• Screen: 15.4" WSXGA+ 1680 x 1050 (X-Glass)
• Processor: Intel Core 2 Duo P8700 (2.53GHz, 1066MHz FSB, 6MB Cache)
• Memory: 4GB DDR3 Ram
• Storage: Fujitsu 320GB HDD (7200rpm)
• Optical Drive: DVD+/-RW
• Wireless: Intel 5100 AGN + Bluetooth 2.0
• Graphics: nVidia 260M GTX GDDR3 1GB
• 2 Mega Pixel Web Camera
• Battery: 8 Cell
• Dimensions: 364mm x 269mm x 41mm
• Weight: 3.2Kg with 8-Cell Battery
• Windows Vista Home Premium
• Retail Price: £1378.85 inc. VAT (at time of review)
(note: spec has now changed to P8800 and 500GB hard drive at same price)
Build and Design:
The X70 breaks away from the all too common glossy plastic finish of many notebooks on the market today, with the only trace being found in the small area around the keyboard. For the remainder of the notebook, a sleek brushed black (anodized) aluminium finish which is surrounded by a silver edge which really makes it stand out from the crowd. One very noticeable thing is the complete lack of branding on the notebook. There is nothing, except a small sticker on the underside of the notebook which says that Novatech actually build this laptop.
As far as build quality goes, the X70 is nothing short of excellent. There is no keyboard or palmrest flex whatsoever and as usual with Clevo based notebooks, everything seems very well put together. Thanks to the rigid aluminium lid, there is no show through whatsoever when pressure is applied to the back of the screen and the screen hinges seem very robust with no wobble whatsoever. One slight drawback of the hinge design is that it can only be put back to around 45 degrees and no further, although this isn't to limiting.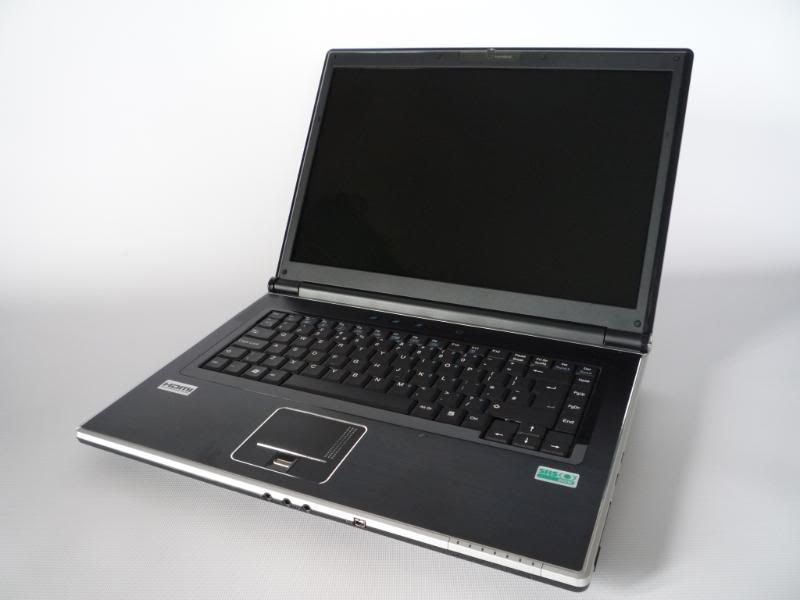 The addition of the more powerful 260M GTX card means that Novatech has changed the cooling design of the laptop and has now opened up the previously blocked intakes on the bottom, meaning that it isn't really possible to use this on your lap.
Screen
As far as notebook screens go, the display in the X70 is sharp and bright with good viewing anglesThe quality of the screen is greatly improved by the X-Glass coating, which is not over-reflective like many other notebooks but is enough to give the extra clarity and improved contrast of such a coating. If it wasn't for the stuck pixel, this screen would match the high standards set by the rest of the laptop. The screen would also benefit from LED backlighting as it is not as bright as the superior screen of the X80. I have to say that the X70 GTX has a noticeably clearer and brighter screen than the X70 MV and is a welcomed improvement to the notebook.
It would have been nice to see Novatech using a 16:9 screen rather than the 16:10 as this Notebook is so geared up for high definition playback, although they are limited somewhat by what is offered by the ODM
Speakers:
The speakers on the X70 are about average as far as notebooks go, being adequate to watch a movie but for anything more, you really need external speakers or headphones. The placement of the audio jacks could be better, being right next to the hard drive which causes some interference in the audio output, but this hardly noticable over music.
Processer and Performance:
The X70 sports the Intel Core 2 Duo P8700 processor which runs at a healthy 2.53 GHz. This provides ample power for almost every task that you throw at it and combined with the powerful nVidia 260M GTX graphics chip, provides stunning frame rates in the latest games, while has a low TDP at 25W so that it is more efficient than the slightly more powerful processors which helps improve the battery life. It is noted however that the X70 GTX Pro at standard specification has a less powerful processor than the X70 MV. There is not a massive difference as the CPUs are clocked the same however the cache isn't as large. Novatech have chosen to use a Fujitsu 320GB 7200rpm hard drive in this model which is currently the biggest 2.5" hard drive available in this speed, although if you require the optimum performance, you can upgrade to a Solid State Disk for around £50. As mentioned previously, the X70 features the nVidia 260M GTG graphics chip. This is currently the second most powerful mobile chip from nVidia which, coupled with the X-Glass screen provides stunning graphics and frame rates in the latest games.
Benchmarks
CPU-Z
GPU-Z
Windows Experience Index
HD Tune
3DMark 05
3DMark 06
Super Pi
Cinebench R10
Heat and Noise
Unlike its bigger brother the X80, the X70 uses a single fan cooling design which seems to be far superior in most ways. Noise is reduced massively over the two fan design, and even when gaming, the fan noise is not intrusive at all, and if complete silence is required, there is a silent mode, activated by a button above the keyboard which clocks down the system so the fan isn't required. It is noticeable however that the cooling system is louder than in the X70 MV although not by much which is likely to be down to the revised bottom panel design.
Keyboard and Touchpad
The keyboard included is above average as there is no flex whatsoever and the responsiveness is great. The keyboard is noticeably quieter than that of the previous generation X70 and cannot really be faulted.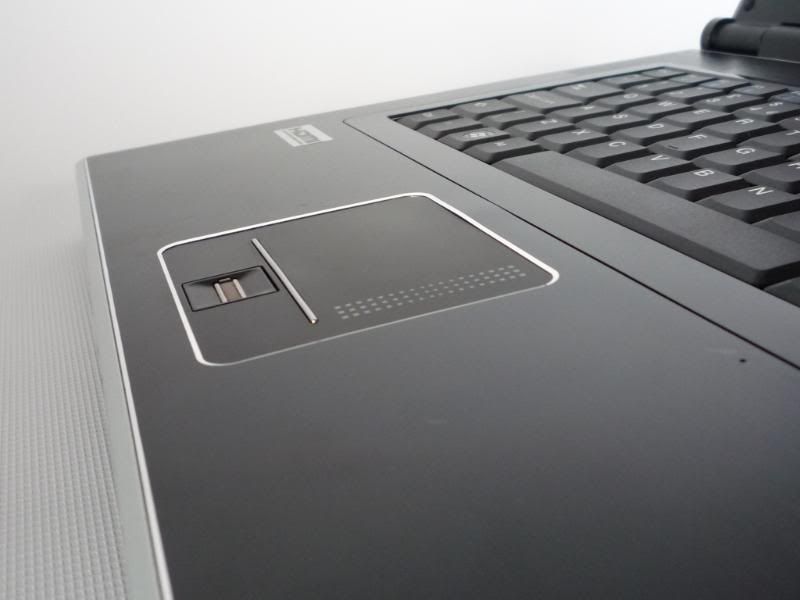 The touchpad on the X70 is well designed and has lost the blank plastic to a finger print reader which is a welcome addition. Sadly this seems to have affected the buttons slightly as they occasionally get stuck down and are reluctant to pop back up. Apart from this though the touchpad has a good texture and is generally nice to use.
Input and Output Ports
The X70 has almost every connection you could want for a laptop, including both HDMI and E-Sata connections. The only port that would be welcome is a standard VGA port for use with older displays / projectors, however there is a DVI adapter provided for this. Also t placement of the audio connections could be better as they are on the front which is useful for headphones but can be a little annoying when connecting to speakers.
All descriptions are from left to right
1. Optical Disk Drive

1. Expresscard Slot
2. Memory Card Reader
3. 2 x USB 2.0 Port
4. RJ-45 Gigabit LAN port
5. RJ-11 Modem Port

1. Headphone Jack
2. Microphone Jack
3. SPDIF Jack
4. Mini Firewire Port

1. DVI-D Port
2. HDMI Port
3. USB 2.0 Port
4. USB 2.0 / E-Sata Port
5. Kensington Lock Slot
Wireless
The X70 makes se of the Intel Wifi-Link 5100 AGN card which has an excellent range and achieves decent speeds even when only using a G connection. The laptop also features Bluetooth and has a slot available for an HSDPA card (not available at point of review).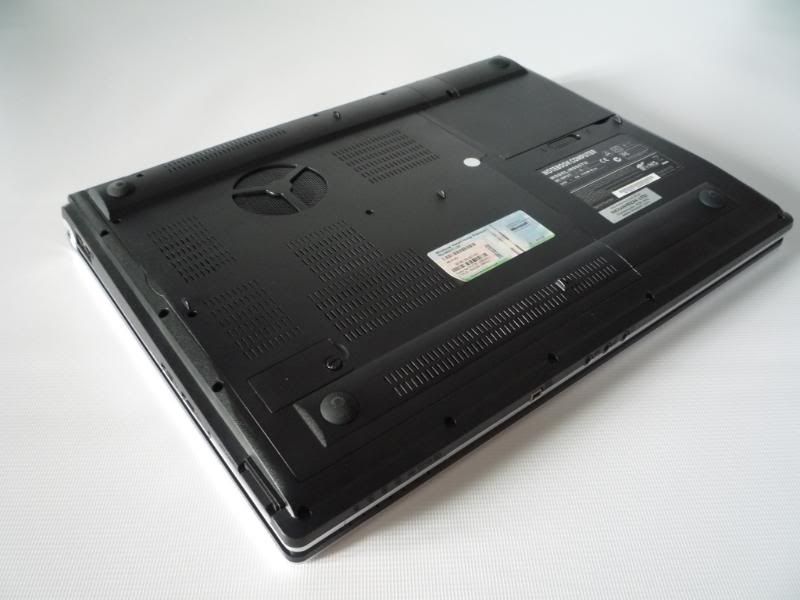 Battery
The battery life of the X70 is actually surprisingly good for a notebook of this nature. If you are conservative and use the Silent Mode, you can get almost 3 hours or useful life, although when gaming you will reduce this to nearer the one hour mark. It would have been good to see a binary graphics option available like on the rival Alienware M15X but the Silent Mode does compensate for this a little.
Operating System and Software
My review model of the X70 had Vista Home Premium 64bit installed, however it is available with most flavours of Vista and XP or without an operating system at all. Sadly there was no operating system disk included, although they are available from Novatech upon request The only pre-installed software that the X70 ships with is a 60 day trial of Microsoft Office and the only disk which comes with it is a Driver disk which also contains a .PDF version of the user manual.
Customer Support
Novatech provides some of the best customer support I have ever experienced from a computer manufacturer. Every issue I have had with the laptop I purchased from them has been dealt with in a professional and efficient way, and I have been nothing less than 100% satisfied with it. Novatech have both phone support and a live chat which I have tried out and both seem to be very helpful. I have to say their live chat is on a whole different level to that of Dell. As standard, all Novatech laptops come with a 12 month return to base warranty, however for the cost of around £40, this can be upgraded to a 2 year C & R warranty which I think is a must have.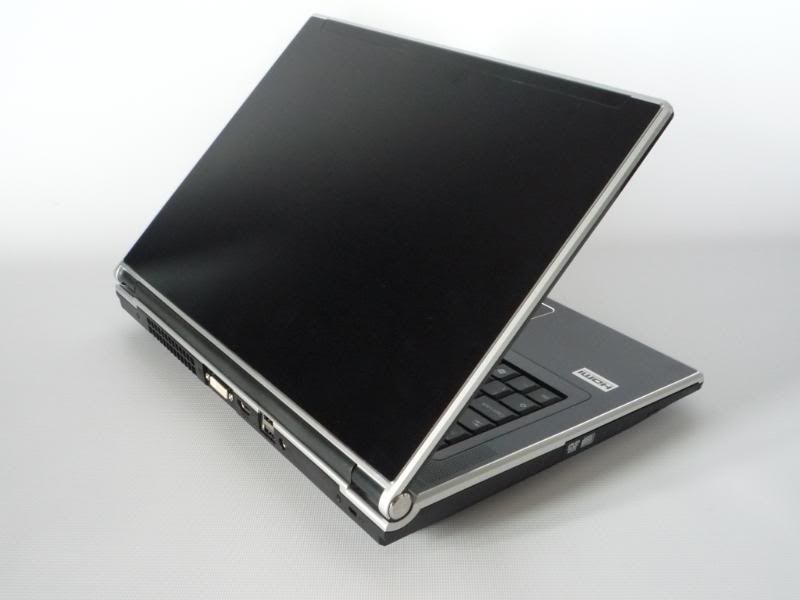 Conclusion
The Novatech X70 is the best laptop currently available if you are looking for the optimum balance between gaming performance and portability, being far smaller than most similarly configured 17" notebooks and only slightly bigger than more mainstream 15.4" notebooks. The main downsides is the heat generated by the hard drive, however this is guaranteed under warranty so isn't a massive problem.
Pros
• Sleek design with a premium finish
• Desktop performance graphics in a 15.4" form factor
• Available with a variety of operating systems or none at all
• Silent mode which improves battery life considerably
• Great build quality
• Amazing screen quality
Cons
• Hot hard drive
• Touchpad buttons stick down
Thanks to Chris and Charmaine at Novatech for organizing this review unit for me