Ok, I've been using mine for a few weeks now so i thought I would share how its going with you.
Specs
Operating System: Genuine Windows® 7 Professional
Chipset: Intel® System Controller Hub US15W
Processor: Intel® Atom™ Processor Z540
Processor Speed (GHz): 1.86
L2 Cache (KB) 512
Frontside Bus (MHz) 533
Memory Size (GB) 2
Memory Speed (MHz) 533
Memory Type DDR2 SDRAM (1x2GB on board)
Hard Drive Capacity (GB) 128
Hard Drive Type SSD Flash drive Serial ATA
Optical Drive Type Not available
Display X-black LCD with LED technology with enhanced durability
Diagonal Size (in) 11.1
Resolution 1366x768
Graphic Card Name Mobile Intel® Graphics Media Accelerator 500
SD Card Slot
RJ-45 Direct Port (Network)
USB Port (quantity) 2
VGA Connector for Monitor
Built-in WWAN Everywair Wireless WAN 7.2Mbps (HSDPA/HSUPA, UMTS, EDGE, GPRS)
Wireless LAN Max. Date Rate (Mbps) 300 (RX)/ 150 (TX)
Integrated Bluetooth (Version) 2.1 + EDR
Built-in Stereo Speakers
Built-in 'Motion Eye' Digital Camera
Dimensions Depth 185, Height 13.9, Width 278
Weight with Supplied Battery (kg) 0.780
Battery Type Lithium-Ion battery (VGP-BPL19)
Battery Life (min) 480, Battery Charging Time (min) 140
I chose the lower spec'd one because I couldn't bring myself to pay the extra £500ish for what would still in essence be a low powered machine that I would be using for netbook type duties.
What its like
It really is incredibly thin, you can see it in the photo below, but handling it is still a shock. It doesn't feel the least bit fragile, in fact feels sturdier than my TZ21 (where there was a fair bit of flex in the lid). The base is literally the thickness of the VGA port, thinner than the ethernet port which has to kind of fold out to accept a plug.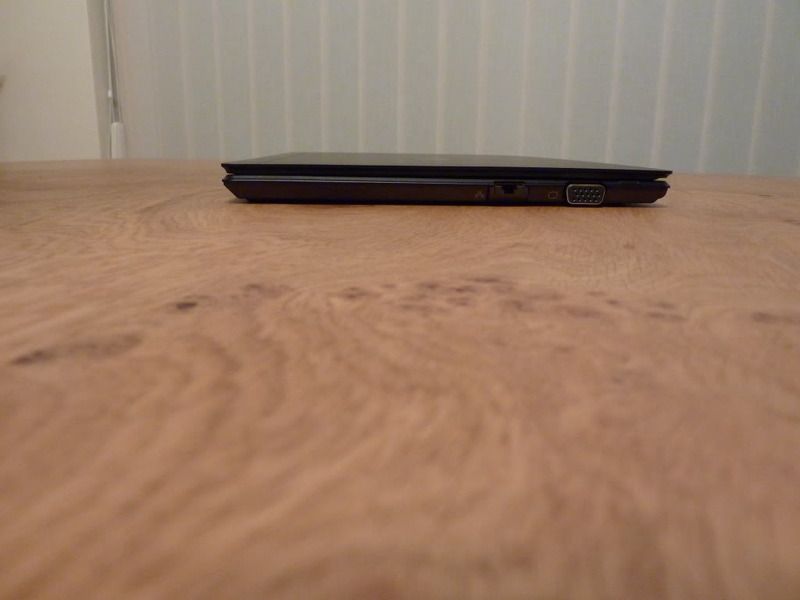 The build quality does seem impressive, you never feel like its going to break and it just looks great. I've seen one in the Sony shop which has a glossy case (that might be a choice or it might be the more expensive 2.0ghz one) and I'm not too sure about it. You find yourself picking it up to check the weight and wondering if the battery is in or not, it really is that light.
In Use
Startup seems really fast compared to the TZ21 running Vista, but I've nothing else to compare it with really as the only other maching I've got access to running W7 right now is a mac with it running as a virtual machine. The keyboard initially feels a bit icky, reminds me of the keyboard on my spectrum 48k (yep I had one!). The keys are big enough, but the movement is very shallow and feels a bit rubbery. Once you start using it though you get really used to it and it works very well for typing fast.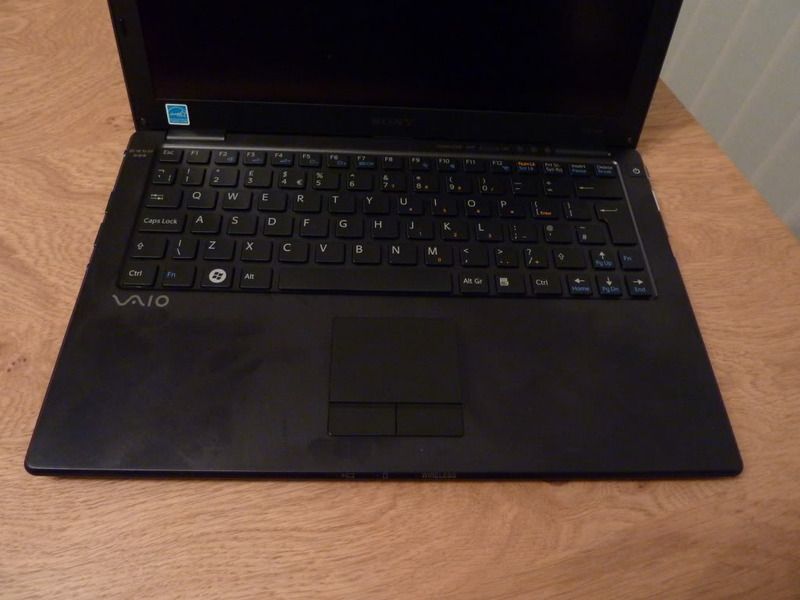 Although it looks like I'd been using it whilst eating a greasy burger - trust me, I hadn't, I was being incredibly careful, but that wrist rest is metal and attracts marks badly.
The SIM card slot is under the battery, I initially used my 3 chip from the little mifi thingy, have now bought a 3 month trial with t-mobile. Good news is both worked automatically without software. That might not sound like a big deal but with the TZ21 with built in SIM it was expecting t-mobile and all the software was for t-mobile, took me ages to sort out with Sony, this one just worked.
As you'd expect of a Sony the screen is a real strong point. Very bright photos look fab on it.
Performance
Well this is never going to be a stormer, but with the fast startup and stuff, you get to the internet faster than my TZ21, the screen looks amazing and it connects straight away. One of the biggest improvements over the Tz21 is the way the mobile broadband connection works. It has an option to stay connected when there's no WLAN and it does that, so as signal drops there's no need to recoonect ior keep checking if you need to reconnect, if there's a signal it will keep connecting automatically.
It plays music fine and if you're web browsing, listening to music, playing videos built into websites it never seems to struggle. Two things that seem to overwhelm it is (ok another admission here) Farmville on Facebook. As you move over the, erm, farm, its just jumpy, really slow. I've tried re-installing flash and using IE, Chrome and Firefox, its the same with all of them so assume its the capabilty of the machine. The secong thing is a downloaded TV episode from itunes, that just runs really jumpily, in the end not watchable, even on the highest settings.
I'm running Picasa, MSN, Skype, iTunes and TweetDeck, not much else. Aside from the mention of sluggish video, they both seem to work fine. I haven't even thought about trying things like Lightroom on there which I use for photo editing, but I guess I might put office on at some stage.
I've set it to sleep when the lid closes. The startup time seems to vary on how long its been asleep for. If you restart it after less than an hour, its there instantly and is reconnecting the mobile broadband by the time the screen starts up. If you've left it overnight, it seems to take quite a couple of mins to restart as if it had hibernated itself or something.
The battery life is pretty much what they advertise (4-5 hours). I find I get the full 5 hours with the screen brightness about halfway up, playing music and browsing using 3g. It also seems to hold onto its charge, so if its asleep the battery use seems minimal and I now regularly travel without the charrger, staying overnight and getting 5 hours worth of use. The battery in context is massive, basically the entire underside of the keyboard.
I'm currently just using the free 3 months of McAfee that came with it, would welcome any comments on people's current thoughts on pretection v's performance drain. McAfee doesn't seem as intrusive as when i last used it a few years ago.
Conclusion
Overall if you think of this as a netbook its amazing. The built in broadband just works so well and the machine is speedy enough (I guess that's about W7) for most day to day stuff and browsing is fine. I travel on the train a lot into London and its just perfect for that. I suppose I'm wondering if its also enough for like a long haul flight or whether I would still take the macbook. It's had the desired effect of taking over a kilo out of my backpack. If you've carried a D700 and a macbook in the same bag you'll know what I'm talking about there.
It all works really well and does what its supposed to. When it comes down to it I really love it. What it won't do is replace anything else you have other than a netbook, so you will need it as a little extra. I'm a Sony lover, but the really telling thing is that my other half is the opposite , a really Sony hater and still loves the x-series.
It's also been a really good introduction to Windows 7. I actually get on really well with Vista, running well on my Rock P665 which is still going..... But this was no trouble to setup, so far everything has just worked, it hasn't frozen or hung so far and it all just seems to hang together well.
My first review, so if I missed anything, just shout and I will try to fill in any blanks.